3D blocks nesting library: Powernest Cube
Innovative 3D blocks
nesting
Powernest Cube optimizes the nesting of parallepipedic blocks.
This library is intended for software developers who need to integrate automatic cutting functions in their software products in three dimensions.
With the ability to meet various specific industrial requirements, Powernest Cube can be used for the cutting of a wide range of materials: foam, wood, metal, stone, graphite, etc.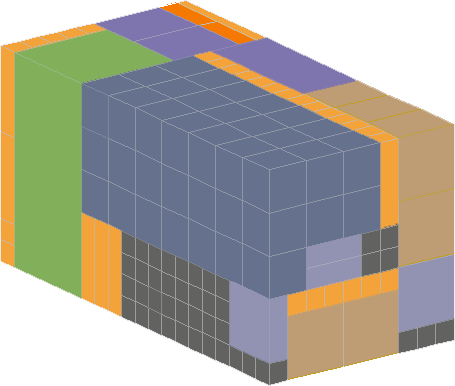 3D nesting applications
Taking into account material constraints (fiber orientation, rotations, etc.) as well as cutting process requirements (machine limits, minimization of offcuts and priority re-use of offcuts, selection of best material to use…), the Powernest Cube library ensures efficient and quality 3D cutting.
Powernest Cube is perfectly adapted to volume cutting of different materials (foam, polystyrene, polyurethane, marble, wood or even deep-frozen food), but also to the filling of different volumes (containers, pallets, lorries, warehouses, etc.).
If you are an end-user looking for an applicative software product to optimize .the nesting of parallepipedic blocks for any purpose, please visit this webpage.
The Powernest library is also available for edge to edge rectangular cutting (sheet-metal shearing, wood-panel cutting, etc.) and linear cutting (bars, profiles or tubes sawing, etc.).
Main advantages and benefits
Optimized cutting resulting in material and time savings
True 3D nesting instead of a plain layer pile-up
Integration of material constraints and cutting process requirements
Optimized control of material costs, parts and offcuts
Easy to use
Easy to integrate into your application software thanks to a C interface or as .net and java componentsli>